Good Will Memorial Page
Line of Duty Death
---
Captain Chris Good
LODD
November 21, 2012
Captain Chris Good ("Goody") passed away suddenly at his home on Wednesday, November 21, 2012, at the age of 36. Capt. Good had responded to a house fire the previous afternoon in West Goshen Township and had then attended a fire department preplan activity just hours before his death.

Capt. Good served the Good Will Fire Company since 2002. He had previously served as Captain and Lieutenant with the Lionville Fire Company. Capt. Good was well known throughout the Chester County emergency services community. He was employed as a career fire fighter with the Arcelor Mittal Steel Fire Department.

Goody's remarkable work ethic, dedication to teaching and training, and his friendship will be deeply missed by those at the Good Will and beyond.

Link to news item announcing Captain Good's passing:
http://www.goodwillfireco.org/apps/public/news/newsView.cfm?News_ID=134
Reflections on Captain Good's Memorial Service
November 26 was an overcast, snowy day that matched the somber mood of the hundreds of mourners who came from all points on the compass to pay their last respects to Captain Chris Good, a longtime member of the Good Will Fire Company. Chris, or "Goody" to just about everyone, wasn't a big fan of pomp and circumstance and he probably would have secretly fidgeted in his Class A's if he too stood among the flocks of first responders who lined the procession route saluting the funeral escort. But even though he held no particular love for ceremony his love and pride for his fellow firefighters was unmatched, so he would have stood there, deeply respectful of the fallen firefighter he was there to honor. But instead of standing amongst his fire brothers and sisters on that wet road this past month it was he his brothers and sisters honored as his ashes were escorted by his wife Jessica and the Good Will members on his favorite engine; 52-2, known as "the 5-Deuce."
That it was Engine 52-1 instead of the 5-Deuce that Goody rode his last call in probably would have caused numerous choice words from the renowned grumbler. That last call came in on November 20th at 21:49 as a House Fire with flames visible from a neighboring house. Captain Good rode the Officer seat on 52-1 and after initial exterior work he led his crew on interior operations, attacking hot spots and performing general overhaul. As always Goody led by example; his bunker gear coming out just as grimy, or even more so, than those around him. And during cleanup he worked side by side with his brothers picking up gear and packing up 5 inch, smiling and cracking jokes with everyone within earshot. The next morning, November 21st, only hours before he died, Goody represented the Good Will at a departmental preplan at a local hospital providing just one of countless examples of his commitment to the Good Will, to fire training, and to his entire family; fire and otherwise.
Goody's commitment to firefighting and the Good Will was matched by his love, pride and the obvious joy he found with his family. It was rare to find Goody without one of his children slung in his arms while he patiently trailing after another one wandering across the engine bay. The love Goody had for his family showed in the picture boards that surrounded the mourners the day of his funeral. Those pictures brought the only sunshine to that rainy, snowy day. And the quantity of tears shed in that engine bay during his service easily rivaled the amount of rain falling outside. The service began shortly after the escort apparatus pulled under the wind whipped flag held fast to crossed ladders. An honor guard led the procession past hundreds of saluting firefighters lining the way from the 5-Deuce to the station door. Assistant Chief Jon Stafford stoically carried the LODD flag and was followed, just as stoically, by Chaplain Jerry Schwartz. Former Assistant Chief Paul Haring reverently carried the urn that held Captain Good's ashes, and Firefighter John Eadie escorted Captain Good's family into the station. Once inside the jam-packed engine bay Goody's friends, family, and co-workers listened intently as Chaplain Schwartz led speakers and mourners alike through alternating sobs and laughs as Chris Good, the man and the firefighter, was remembered and already deeply missed. Undoubtedly some of the most heartbreaking moments of the service were the presentations of the LODD flag and Goody's helmet to Jessica and the 5-5-5 Signal honoring Goody as a fallen firefighter that was broadcast on the county pagers. As per tradition the signal also announced that Captain Good's assignment was complete "and he has been returned to quarters." If there was a dry eye in that bay after the 5-5-5 signal the bearer was made wholly of stone.
Goody's was a service for the ages because it signified a thankfully rare event, a firefighter losing his life in the line of duty. But the service was also special because of Goody himself. A gruff external package thinly covered what so many knew as a highly intelligent, empathetic, and loving man; a man dedicated to his family and friends and a firefighter dedicated to duty, training, and getting the job done no matter what. His presence touched so many people and the swell of humanity who came out to honor him spoke volumes of that presence and what he meant to the fire service and to his friends and family.
As people departed the service comforting friend and crying stranger alike the one thing that brought a crooked smile to several faces was that Captain Chris Good lived, and died, doing what he loved. He would be angry, to say the least, if his fire family didn't "get over it" and move on. So that's just what the members of the Good Will Fire Company will do; honor his life and his commitment to firefighting by moving forward, proud to have known such a man and fortified by the skills and knowledge he passed on to so many.
Firefighter Tracey Axelrod
December 2012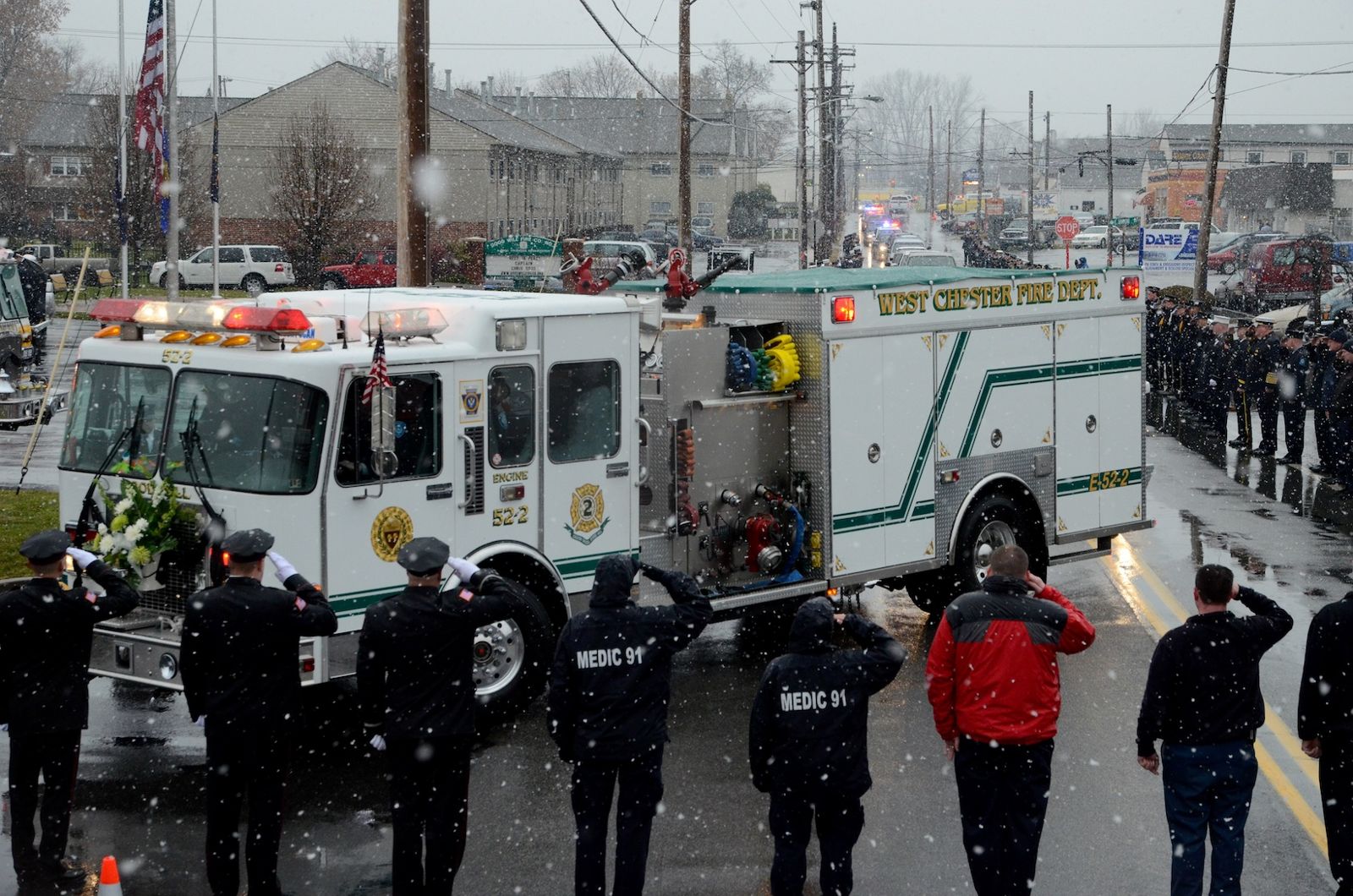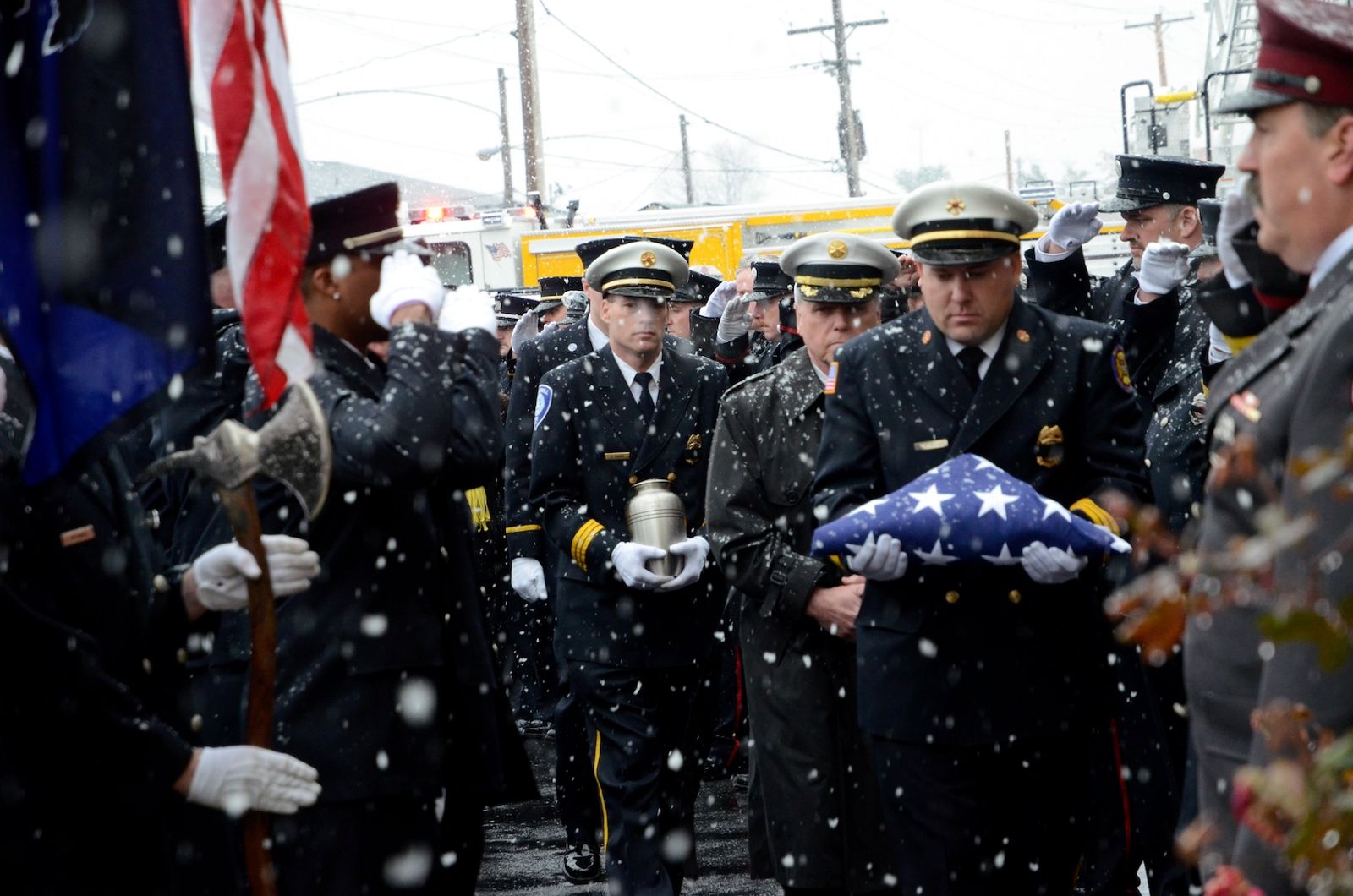 ---
Non-LODD Memorials
First Class Firefighter Robert (Robbie) Miller
May 2, 2013
First Class Firefighter and Trustee Robert "Robbie" Miller passed away on Thursday, May 2, due to injuries substained in a motorcycle accident that occured the previous night.





Robbie, who also served as Captain of the West Bradford Fire Company and as a firefighter with East Brandywine Fire Company, served the Good Will Fire Company since 2007. Rob was well known throughout the fire community and his outstanding work ethic and infectious smile and sense of humor will be missed far and wide.
Link to news item announcing Robbie's passing:
http://www.goodwillfireco.org/apps/public/news/newsView.cfm?News_ID=150
Former Assistant Chief Frederick L. Pettit Jr.
February 4, 2013
Frederick L. Pettit Jr., a past Assistant Chief and Chester County Fire Marshal, passed away on Monday, February 4, 2013.
Link to news item announcing Assistant Chief Pettit's passing:
http://www.goodwillfireco.org/apps/public/news/newsView.cfm?News_ID=140
Former Captain James (Jimmy) Graham
July 17, 2012
Jimmy joined the Good Will Fire Company No.2 in 1988 and quickly became an outstanding firefighter and leader. Jimmy served for several years as a Lieutenant then as the Captain of the Good Will Fire Company from 2000 to 2006. He served the company as a Trustee from 2009 through 2010.

In late 2011 Jimmy was diagnosed with Pancreatic Cancer and fought the hardest and most courageous battle of his life, unfortunately Jimmy lost his battle with cancer on July 17th, 2012.
Link to news item announcing Jimmy's passing:
http://www.goodwillfireco.org/apps/public/news/newsView.cfm?News_ID=122
Former Chief Philip (Phil) Giunta Sr.
November 20, 2010
Philip N. Giunta, Sr., 79, of Coatesville, died Saturday, November 20, 2010 at neighborhood Hospice in West Chester. Phil had been very active in the Good Will Fire Company No. 2 of West Chester since 1954 and in 1974 was elected Chief of the West Chester Fire Department.
Link to news item announcing Chief Giunta's passing:
http://www.goodwillfireco.org/apps/public/news/newsView.cfm?News_ID=75